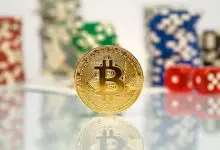 The gaming industry is expected to generate a revenue of $152.1 billion for the year 2019. The demand for online gaming is on the upsurge and increasing day by day. The collaboration of online gaming with blockchain technology has further enhanced its reach. The use of Bitcoin, one of the most sought after cryptocurrency, in gaming as an in-game asset, has helped both the industries in gaining user attention. As per reports, the video game industry is growing so fast that some believe it will reach over $300 billion by 2025.
Bitcoin's growth and popularity are connected to online gaming. A major benefit with Bitcoin payment is immediate withdrawals and deposits, which ultimately help gamers in handling the transaction process smoothly. Besides, online gaming is similar to Bitcoin in several ways. Both started as a fancy concept and has faced ups and downs since their origin.
Which Functionalities are Provided by Bitcoin?
Decentralization is the first and foremost factor. Bitcoin doesn't have a central regulating authority making the user its sole owner. Lack of authority also makes BTC non-taxable.
Security:
The second factor is security. The transactions in BTC are anonymous, and it protects users from identity theft. For merchants, also, the risk factor is low as the transactions are non-reversible. Further, no personal information is needed for the transaction; it keeps the user's privacy intact. However, the transactions are available on a public ledger, so it remains transparent.
Fast Transaction Speed & Low Fees:
Other factors include time-saving and zero or low transaction fees. For BTC, the TAT is almost negligible, be it a cross border transfer or a payment to your local shop. BTC Network doesn't have a middleman, so the transaction charges are minimal or zero. Bitcoin Games has made its presence felt more strongly, and as per reports, customers have increased drastically with game hosting sites tripled in the last three months.
Although Bitcoin fails to get mainstream recognition, it stands out when it comes to online gaming. The X-factor of Bitcoin lies in its technology, and that's what makes provides an edge to it to be used in online gaming. Bitcoin Gaming currently hosts apps focused on poker rooms, sports betting, and basic 2-D games. Which shows the sought of the Bitcoin Era. If you want to stay updated about Bitcoin or online casino & poker games then you should visit https://www.pokernews.world/ that provides the latest news related to the casino & poker industry.