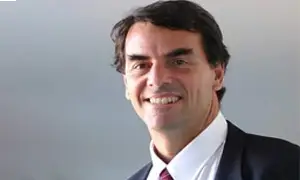 Tim Draper, who is a billionaire investor in the cryptocurrency sector, has claimed in an interview taken by the American financial news TV channel, Fox Business, that in the next five years time only criminals would be using fiat as a mode of currency, as crypto with its growing popularity would be used and accepted globally.
He said to FOX Business on Sunday, "Not many bitcoin knock offs have worked particularly well, but they all add to the interest in bitcoin."
During last May, Draper had told FOX Business that, "This is going to be the biggest change in the history of the world and it's so exciting. I thought the internet was super exciting, but this is going to change everything completely and the government itself is going to change."
He stressed upon his earlier statement by saying that fiat money would become nonsensical and obsolete in the coming five years. Draper explained his prediction that other than criminals no one would use cash. Also, if criminals would use crypto, they may be tracked through the help of blockchain.
He further added that "The criminals will still want to operate with cash, because they catch everybody who is trying to use Bitcoin. Over time, when they start taking bitcoin, I'm going to be pretty much moving everything [out of the banks]. There is no reason to hold on to shells, when you've got gold,"
He compared the news to "a bellwether akin to Apple welcoming IBM into the PC business."
In last August, an agent from the United States Drug Enforcement Administration (DEA) observed that she would desire people to use cryptocurrencies on a regular basis as the blockchain has such capabilities and features through which it would be easy to identify and track down criminals.
During the course of the interview, Draper stated that he believes that his money is less secured in the bank than his money invested in Bitcoin and hence said that "My bank is constantly under a hack attack." According to him no one has able to hack Bitcoin's blockchain and therefore Bitcoin is more secure than a dollar. He further added that there is no point to think about the past as the future is revolving around bitcoin and other cryptocurrencies.
The latest statement made by Draper has resounded the position taken by the young Bitcoin millionaire, Jeremy Gardner, who had stated that the current financial system is more prone to various activities such as terrorism and crime to a large extent than the deployment of blockchain technology that would not have such potential to give rise to these activities.
During last November, Tim Draper reconfirmed his previous estimate which he had made in April 2018 on the Bitcoin price, stating that the bitcoin would be trading as high as $250,000 per coin by 2022. Apparently, if we look at the performance of the bitcoin, we could observe that Bitcoin has experienced significant growth recently and jumped about 7.6 percent over the day thereby trading at $3,907 by the time of writing this article.