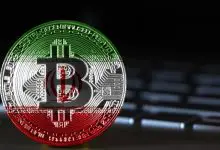 Integration of blockchain technology and cryptocurrencies could bring a much-needed boost to Iran's frailing economy. While its yet to be seen whether blockchain technology and cryptocurrency can boost the economy, over a hundred countries are channelling into its wide array of applications.
Alireza Daliri, Deputy for Management Development and Resources at the Vice Presidency for Science and Technology said blockchain technology could provide Iran with a platform to coordinate with international partners all over the world. According to Tehran Times Daliri said, "this is possible with empowering the infrastructure of the blockchain technology with the help of the government and private sector." He said the science and technology vice presidency is responsible for the development and hi-tech like blockchain. Daliri said blockchain would decrease bureaucratic procedures. CNN highlighted him saying tech-based growth is one of the blockchain's most significant selling points.
This is not the first time that Iran has expressed interest in blockchain technology. Earlier this year, Tehran collaborated with Russia to base their trade currency in 'digital currency'. According to CNN Daliri had announced that the Iranian government was already laying the groundwork for developing a national digital currency. "The cryptocurrency would tokenize and serve as a backing for the Rial, providing a means for the country's financial institutions to transact with their international partners, circumventing the US imposed economic sanctions."
But the United States is watching Iran closely. Washington is very much aware of the blockchain's potential. It is one of the most innovative technologies to date. According to DZone blockchain can store and maintain data in a way that enables multiple stakeholders to securely share and access the same information. "Blockchain technology's immutable, secure and decentralized features can help defence and aerospace entities lower maintenance costs, increase vessel and aircraft availability and eradicate errors in tracking parts."
More countries are now showing and sharing their interests in blockchain and helping establish working groups and research to tap into its potentials.