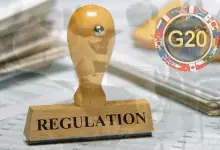 The biggest drawback that is ailing the field of crypto currency right now is the issue of money laundering, that is, the tax evasion and the other kinds of thefts which are taking place because of the means of crypto currency. Both the developing and developed nations are in a bid to oust this particular tendency of crypto currency. So many measures have already been put in place to see to it that the various money laundering scams are checked, several guidelines have been imposed upon different exchanges belonging in different countries to see to it that there is no way anymore scams regarding crypto currency can take place.
Some new measures are going to be incorporated when it comes to making crypto currency a secure place, these measures and the time when they will be put into practice has been decided by the G20 nations in the meeting that took place, that is, at the G20 summit which was held in the initial part of the year. These nations met again in the past week and have decided to impose international standards of Anti money laundering rules upon the various crypto currencies and the entities associated with it.
This group of nation has clarified that it will maintain caution and will stay alert regarding the different activities of crypto currency even when they had stated previously that crypto currency is not a threat to stability of the financial system of the world today. However, it did not refrain from stating that caution is necessary when it comes to crypto currency. Moreover, a plan of action has already been set in motion to ensure that the AML regulations are set up and put in action as quickly as possible.
The measures which have been taken with the formation of a group of thirty seven countries, who have been given the responsibility of coming up with firm rules for exchanges across the world. These countries will be tasked to see to it that there is nothing lacking, that there are no loopholes which allow the money laundering to take place. There have also been efforts geared towards better implementation of laws which govern the provision of licenses as well as implementation of "know-your-customers" in different exchanges. These are two primary regulations which are being taken care of at this point. Moreover, monitoring of the volatility of Ethereum and Bitcoin has also been emphasized by the various authorities of regulation. It has been stated that the monitoring of volumes of the prominent crypto currencies is also essential for its operation to go smoothly in the future as well.
Even as these measures of regulations are being talked about and efforts for the same are being made, it is hard to determine as of now if the lack of distrust in the crypto currency will lose ground, or if it will continue to be as arbitrary as it is right now.