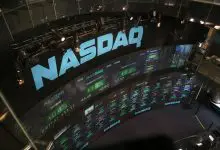 In an interesting development that might change the future stock trading scenario, an Estonian cryptocurrency exchange, DX.Exchange plans to offer tokenized shares of the Nasdaq-listed top companies. So that you know, the DX.Exchange is certified by the European-Union and has got offices in different locations in Israel.
Tokenized Securities
According to a report on Bloomberg, DX.Exchange is working on to offer digital tokens of the top companies based on their shares and has plans to expand to other stock exchanges like New York, Hong Kong, and Tokyo. The plan of offering digital stocks involves the company's partner Marketplace Securities Ltd (MPS). The exchange will offer digital stocks to the customers based on the actual stocks that MPS has purchased. MPS, which has been licensed by the financial regulator of the Republic of Cyprus, will be holding the stocks on behalf of the owners who have purchased the digital tokens on the exchange. The stocks will be stored in a separate account which will be segregated from the internal funds of the company. This segregation will help the company to safeguard against any issue it might face in the future. To make the transaction secure and safe, MPS will abide by the regulations of Cyprus Securities and Exchange Commission while the DX.Exchange falls under the regulations of the European Union. Both these regulations will ensure that customers' interest will be safeguarded under any situation.
Views of the top echelon
The chief executive officer of DX.Exchange, Daniel Skowronski in conversation with Bloomberg said that the exchange has complete operational authority in European Union as it has been licensed by Estonian Financial intelligence unit. He said that the company saw a huge opportunity in tokenizing the existing securities and described this step as a beginning to merge traditional stock market with blockchain technology — the chief operating officer of DX.Exchange, Amedeo Moscato, noted that these tokenized assets are the "first real" bridge between the traditional stock market and crypto. This new venture of the company is backed by San Francisco-based venture capitalist firm, the NFX.
Advantages of Tokenized stocks
The DX.Exchange's platform for the purchase of tokenized assets is based on matching the technology of NASDAQ and will allow the users to purchase the stocks in Apple, Amazon, Alphabet, Facebook Microsoft, Tesla, Intel, Netflix, Nvidia, and Baidu. There are many advantages associated with tokenized assets compared to their traditional counterparts. For example, tokenized stocks can be traded at any point in time even when the market is closed, and one can choose to buy part of the share rather than the whole stock. The DX.Exchange platform will also allow the foreign traders to buy and sell shares in the US market.