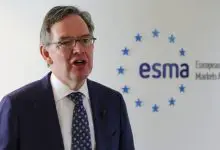 The chairman of the European Securities and Markets Authority, Steven Maijoor, has recommended that he supports the application of financial instrument regulation to digital assets such as bitcoin to help the interest of potential investors thereby keeping them safe and secured from illicit activities.
The existing rules are not enough for the regulation of digital assets effectively and hence there is a need for adequate new regulations which would be able to monitor the movement of digital assets. He further said that if the new rules are not been introduced, then the digital assets would likely not fall within the scope of the regulation of Europe's securities laws.
He added his opinion in his speech at the FinTech Conference 2019 which was held in Brussels at the beginning of this week and stated that "Where crypto-assets do not qualify as financial instruments. We are concerned that the absence of applicable financial rules leaves consumers exposed to substantial risks."
His statements have been followed by the reports of ESMA and another European regulator who suggested about the formation of customized management for crypto assets.
Further, U.S. watchdog is struggling from similar issues about the crypto assets that don't fall with the defined standards laid down for the financial instruments. Currently, the rules do not fall within the ambit of the federal government for the direct transactions of cryptocurrencies and they get involved only when there is an occurrence of any fraud relating to the crypto asset.
As the crypto asset transactions may usually involve cross national borders transactions, but it's not clear till date on up to what extent the different regulatory management will collaborate and co-operate to frame regulations.
Maijoor stated that he would also want to add an adequate set of new rules and regulations for initial coin offerings as well in which organizations need to raise cash in return for digital tokens or coins that can be further utilized to make future purchases and payments. Also, the value of such a token is not stable and fluctuates with time.
In a country like the United States, presently there is no agreement that whether such tokens would be regarded as securities or not, although controllers have taken appropriate action in response to investor's interest towards speculative investments.
The Securities and Exchange Commission has charged the issuers of few ICO's on the grounds of violating the regulations of coin offerings laid down by federal securities laws, primarily with respect to offer terms and disclosure.
Maijoor further added that "most European jurisdictions agree that crypto assets should be regulated if they have attached profit or dividend rights, making them similar to traditional financial instruments. He said he supports expanding Europe's money laundering requirements to include those involved in the exchange of one crypto asset for another, and not just the exchange of one for currency. That would mean much more involvement than what's currently contemplated in the U.S."
He further compared the characteristics of various digital assets where few digital assets provided effectiveness or consumption rights and stated that "Other digital assets provide utility or consumption rights, and others, including bitcoin, may be set up as a means of exchange. These differences make the job of regulators harder".
"This makes it plain to see that we cannot legally qualify crypto-assets via a 'one size fits all' approach," Maijoor further added.