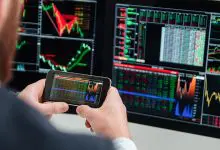 Many traders who've only entered the game over the last 10 years can't imagine the experience of being in a live trading pit. Particularly these days, when you can trade from anywhere with an internet connection and never have to speak to another soul all day long.
When Digitex Futures, CEO, Adam Todd started his career, it was in the sensory overload of London's crowded, noisy, and aggressively competitive trading pits.
Back then, that was the only way to trade, but even as the environment has changed, he still visualizes the markets like that to this day. Other traders might be staring at screens all over the world. But to be successful, he says, you have to have the ability to predict what they're going to do next as if they were standing beside you shouting their order.
Being able to predict which way the markets are going means you don't need to spend time analyzing fundamentals and technicals. He believes that you can be a successful trader without having any knowledge of the underlying assets, provided you can read the markets and react instantly to movements. Scalping single-tick profits from second-guessing what other traders will do is always how he's made his living.
Bringing the Pit to the Screen
Once the trading pits became online interfaces, the pressure was on the big exchanges to bring the pit experience into a digital format. They didn't fail to deliver, the Digitex CEO says.
The big exchanges today–think NYSE or LIFFE–offer some of the very best digitized trading experiences around. The matching engines are near-instant. Traders can see bids and offers to move in real-time, enabling them to read the markets and make lightning-fast trades in the same way they did in the pits.
However, Todd says,
"In my view, the cryptocurrency and crypto-derivatives exchanges available today are failing to live up to the standards set by the pit experience. Very few exchanges can offer a fast and robust trading platform, with a user-friendly interface and a matching engine that can handle the kind of volumes their owners would really like to see put through them…

…Even worse, most exchanges are killing their own opportunities for liquidity with the trading fees model – taking a percentage of the trade value for themselves. My style of short-term trading is all but impossible to replicate on exchanges like BitMEX due to the mechanical edge of trading fees."
After leverage, he explains, today's crypto traders need to hand over profits that are orders of magnitudes higher than the single-tick commissions he used to pay as a pit trader on LIFFE. The commission fee model is actively pushing away traders like himself, who would otherwise be bringing in vast amounts of liquidity. The liquidity that, in turn, would make the exchange a more attractive place to trade.
Realizing His Vision
Since the earliest days of his trading career, the Digitex CEO dreamed of commission-free trading and the profit potential it could bring for his trading style. When Ethereum emerged in 2014, he says, there was suddenly a development platform, and the opportunity to create an economic model around a token. "That made it possible to bring my vision to reality," he says.
And so the idea for Digitex was born. The world's first zero-fee futures trading platform that brings the pit trading experience to the cryptocurrency markets. By denominating all trades in the DGTX token, the exchange will fund itself through driving demand for zero-fee trading.
He admits,
"We've had some development setbacks in building Digitex, but these are because I've been relentless and uncompromising in what I want to deliver. There are too many exchanges that promise big and fail to live up to it, so for me, it's imperative that we get it right."
Todd firmly believes that there will be a demand for zero-fee crypto futures trading and that Digitex must be robust enough to withstand the weight of thousands of traders.
The interface will have an intuitive ladder trading view displaying real-time bid and ask prices, and users will be able to execute orders with a single click. The idea is that traders can focus on the markets, not on navigating around the platform or tapping their fingers waiting for settlement.
"In the beginning, I thought this was a simple goal. But the last two years have taught me that developing a high-performing trading platform isn't easy at all, which is why so few exchanges can get it right. Now, we're only a matter of weeks away from delivering the beta version of Digitex on testnet to our first 10,000 traders who will engage in zero-fee test trading of BTC/USD perpetual swaps."
The company also has huge plans for future development, including swaps backed by other cryptocurrencies, decentralized account balances and making Digitex into a DAO. The launch is only the next new beginning for this ambitious CEO and founder.