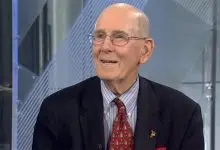 A well-known investor Gary Shilling thinks Bitcoin as a black box. And he says he better stay away from that.
The American investor and financial expert stated while addressing Business Insider, that the crypto money is opaque money. He said it is too complicated for him to understand and put his hard-earned money in it.
He said that he tried to find out about bitcoin's financial model, but, in the end, he concluded that this form of asset is not transparent considering its founder itself is not yet identified.
He said he doubts everything which is not transparent. If I am not able to understand it, I will not invest in it", he added.
This criticism came after the bearish performance of the crypto market in the last year of 2018. The crypto market reached its highest point when it was valued at $20,000 in the final quarter of 2017, but in 2018 it started falling and is now at the range of $3,550-$4,000. The crypto market has dropped by 80 percent.
The veteran financial expert compared the performance of crypto to the South Sea Bubble. It is a controversial and infamous stock market scam which took place at the beginning of the 1700s.
The market saw the growth and popularity of on the UK- based company named South Sea Company. The company started gaining value in the market by the false claims and rumors about the company, and soon it lost all its glory until it became worthless.
As indicated by Shilling, bitcoin is following a similar course of incidents— guesses or predictions and a crash which could bring its value all the way down to zero.
Shilling went on criticizing bitcoin and cryptocurrencies. He gave a reference of a book by Charles Mackay. The name of the book mentioned by his was "Extraordinary Popular Delusions, The Money Mania,"
Shilling expressed his disagreement with the use of crypto by saying that a lot of people in London put resources into this.
As per him, Satoshi Nakamoto, who is can sell out all his crypto possession against fiat money. At present, Bitcoin's market capitalization at present is around $66.876 billion. It is distributed among 503,000 dynamic locations.
Would Bitcoin Ever Go to Zero?
Considering hypothetically, the big shots in the bitcoin or crypto market would need to meet up to collaboratively orchestrate a crash.
Small traders would follow the trend and cut their holdings short, adding more to the negative flow. Bitcoin would achieve zero just when the whole movement around its industry stopped, which implies everything from mining to trading to payment making.