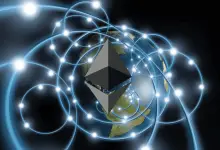 Ethereum means to move to proof-of-stake in the upcoming time. Moving to POS is expected to cut the energy consumption by around 99%.
There have been consistent claims that crypto utilizes excessive energy and hence, it is causing harm to the environment. As per the study conducted by a few researchers, mining cryptocurrency demands more energy consumption than gold mining. A few scientists find that mining is by and large awful for nature.
The core aim of starting Ethereum was to turn this world into one whole and integrated computer; and, to make blockchain the first to introduce smart contracts to the world. The cost of Ether reached the highest point worth around $1400 in the early months of 2018, and from this point, it has gone directly to $200.
Like Bitcoin, Ethereum utilizes Proof-Of-Work as a mutual agreement tool to protect the blockchain. Nonetheless, Ethereum founder Vitalik Buterin emphasized the significance of the energy consumed by the platform to preserve the Ethereum blockchain.
Whether anybody cares about the environmental issues raised by PoW based blockchains or not, some people are denied the essential needs like the power supply.
The prime and probable reason behind this could be, in the case of PoW based blockchains, miners prefer to indulge to cryptographically safe trades. This demands miners to arm themselves with computational capacity. It would help in burning electricity of many dollars worth and mining-related expenses.
As indicated by Ethereum founder, the more mining power is in direct proportional relation to revenue.
The basic logic behind the proof of work is enormous power transformed into value existence through considerable rewards.
In a Proof-Of-Stake System, validators are equally essential and valued as miners. Besides, the prime fear inside a POS framework is to guarantee that the validators are honest and genuine consistently.
One of the most fascinating things about PoS is that given validators are not using as much energy (compared to PoW) to protect the system, the reward might be essentially lower.
The world is yet to see whether Ethereum will keep up its first position as smart contract providing platform; if it could do it while beating the energy use issue, and in particular – scaling.