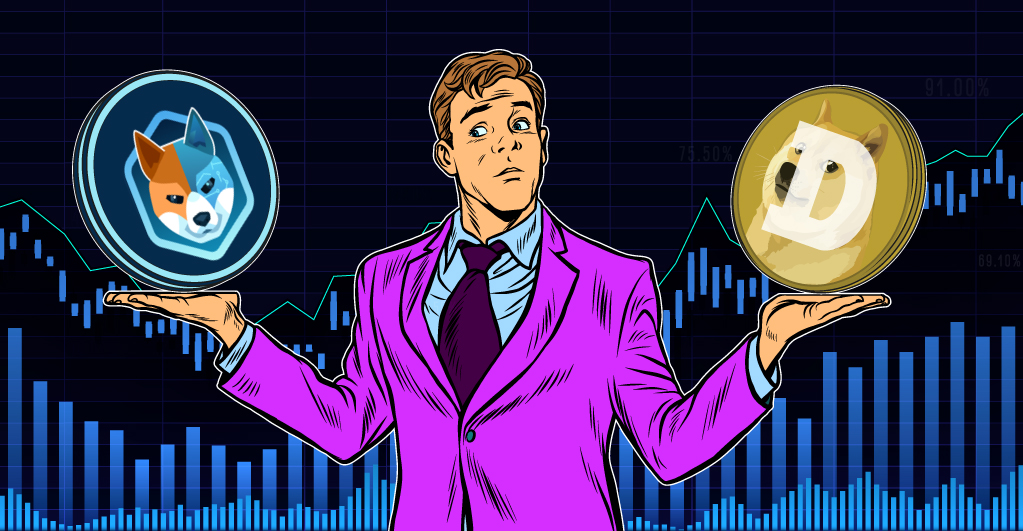 AIDOGE attracts the attention of experts and crypto enthusiasts because of its unique features and similarity with Dogecoin. ArbDoge AI is working on AI and Web3 technologies with great future potential. Many crypto enthusiasts expect a heavy demand in newly listed crypto exchanges for AIDOGE.
Will ArbDoge overtake the growth of Dogecoin? What will be Arbdoge AI's future? Will DOGE go up after the AIDOGE listing? There is lots of confusion among crypto enthusiasts. Read this post to learn the difference, advantages, and features of AIDOGE and Dogecoin before investing in these coins in 2023.
What is Dogecoin?
Dogecoin is an open-source digital currency created by Billy Marcus. It was created as a lighthearted, fun cryptocurrency to mock the existence of Bitcoin, so it has a dog logo. However, Tesla CEO Elon Musk posted tweets in support of Dogecoin. After that, DOGE attracted media attention and started a surprising rally in 2021.
The total supply of Dogecoin is unlimited, so it has no limit to the number of Dogecoin mining. Even the miner can do this on Windows, Linux, and Mac. So many experts believe that the Dogecoin future is bright because many new users will join the community, but the DOGE price will not face scarcity due to high demand.
You can get rewarded or pay Dogecoin for creating quality content on various online platforms. Moreover, anyone can sell or buy Dogecoin at various exchanges, which qualifies it as an exceptional digital currency.
What is ArbDoge AI?
ArbDoge is an experimental project using AI+Web3 technology for the Arbitrum ecosystem because the token will be distributed equally throughout the community without the help of any capital venture or other centralized institution. The total supply of tokens is 210,000,000,000,000,000 with a 15% burning tax.
Its unique feature is a lucky drop ticket, an opportunity to win exciting prizes when anyone purchases AIDOGE. It is an open-source game that will be operated through algorithms. Whenever anyone buys AIDOGE, a 3% fee of the purchase amount will be converted to the prize pool for lucky drop tickets.
You need to make an AIDOGE purchase of $100 to $1000 to participate in Lucky Drop, and there will be ten levels for it. Transactions under $100 will not be eligible for the draw. It means the higher the purchase level, the higher the chance of winning the lucky drop.
Moreover, the ArbDoge team is also preparing for DAO, NFTs, and AICODE. The AIDOGE token will be distributed equally in the contributed Arbitrum community. So ArbDoge AI's future seems to be brighter than the already existing Dogecoin.
DOGE v/s ArbDoge AI: Who Will Win the Race?
Both the native coin names are similar, and they do not have sustainable real-world use cases in 2023, so it is tough to predict how they will perform in the next five years. However, AIDOGE is working on AI+Web3, NFT, DAO, and many other new-age technologies that will get an extra edge against Dogecoin. Moreover, exciting features like the Lucky Drop Ticket system will attract new users.
Unlike DOGE, Arbitrum has a limited coin supply for AIDOGE, which may qualify it as a digital currency and a future parallel economy. However, thousands of other coins claim to do it too. The AIDOGE will be listed in major exchanges, but liquidity can be a factor for the first few months. On the other hand, most enthusiasts have a fascination for AI names (like AI-Doge). The native coin name will play a vital role in the price surge. In short, as a new-age technology, AIDOGE seems to be a modern version of the DOGE coin. Now you know what ArbDoge AI is, so let's find out the future potential of these two coins.
Potential Future of ArbDoge AI and DOGE
Dogecoin was created to mock Bitcoin with an easy setup and mining system. As a meme coin, many crypto enthusiasts prefer Dogecoin over other meme coins like Shiba Inu. Will the Dogecoin price go up? We can expect a price movement between $0.074 and $0.16, but in the next five years, it may reach up to $0.5. DOGE will cross $1 in 2030, so it is a great time to start investing based on DOGE price prediction & technical analysis because the price has been consolidating within a range.
On the other hand, AIDOGE is still in the early phase and has not been listed in major exchanges, so crypto enthusiasts may face liquidity issues leading to slippage in price. So it is tough to predict the price movement and forecast, but if you want to invest in the crypto world, you can consider DOGE because it has a decent track record with an ROI of more than 10,000%, so you can expect a better ROI in the next 10 years.
Conclusion
Both coins have some advantages and disadvantages, but Dogecoin has a good track record compared to ArbDoge AI. However, meme coin is unsuitable for long-term investment because the price movement will be based on the news without any fundamental background.