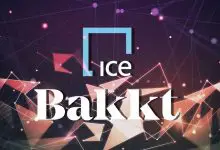 Intercontinental Exchange (ICE) which is the parent company of the New York Stock Exchange (NYSE) had declared the introduction of their crypto trading platform Bakkt in the August of the previous year. But the same has not been able to get executed accordingly and is getting postponed due to the existence of obstructions such as slow down in the crypto market and the U.S. Government shutdown.
Although, the situation has not been favorable with regards to the launch of Bakkt, Kelly Loeffler, Bakkt CEO, is still optimistic with respect to the final mission. Jeff Sprecher, ICE CEO and NYSE chairman, also spoke about the coming of Bakkt during the announcement of the result of the last quarter of his company. He described the Bakkt platform as a 'Moonshot bet' for ICE and stated that the launch might take place by the end of the current year.
ICE CEO and NYSE chairman stated that "It's a bit of a moonshot bet and it's been organized in a manner that is very different than the way ICE typically does businesses. Bakkt has its own offices, its own management team, etc. They're well along in building out an infrastructure that I think you'll see launch later this year."
Sprecher revealed that ICE is currently the primary investor in the Bakkt platform. Sprecher's wife, Kelly Loeffler is the Bakkt CEO and both together are not leaving any leaf unturned for the platform's success.
The Bakkt platform is financed by various large companies that include Microsoft, Starbucks, and Boston Consultancy Group (BCG). At the beginning of the current year Bakkt also received a significant investment of around $182 million from high-profile venture capital investors. Sprecher further added that moving forward he would be planning to conduct some more rounds of financing for Bakkt platform.
At the conference call, ICE's chief financing officer, Scott Hill, said about the expenses relating to Bakkt and stated that in the first quarter of the current year the expenses related to the platform has reached the topmost level of $25 million. Hill added that: "Our investment in Bakkt will generate $20 million to $25 million of expense based upon the run rate in the first quarter. We will update you on progress at Bakkt and the level of investment as we move through the year."
Along with the introduction of the crypto trading facility, Bakkt would also get their Bitcoin futures in the market. Presently, the Bakkt team is working with CFTC to get the approval for their futures. The U.S. government shutdown in the last month has resulted in a delay in the planned activities.
Sprecher stated that in spite of the roadblock the platform is facing and the ongoing market slow down, various corporates and financial giants are still keen to know about the progress on the arrival of Bakkt. He added that: "That infrastructure has attracted a lot of very, very interesting companies that have come: Some that have invested in Bakkt, some are just working with Bakkt to try to tap into that infrastructure for some new use cases that will involve blockchain and digital assets. Obviously, we've announced our work with Starbucks and Microsoft. We have very, very large retail franchises…that we hope will be brought into that ecosystem and could create a very, very valuable company out of that initiative if our business plan plays out."
On the one hand, where various analysts are giving adverse reviews about Bitcoin due to its poor performance, the views of Sprecher on the same is totally opposite and he believes that Bitcoin is the benchmark to measure the performance of the entire crypto market, and that's not going to change. He further added that "Somehow bitcoin has lived in a swamp and survived. There are thousands of other tokens that you could argue are better, but yet bitcoin continues to survive, thrive, and attract attention."