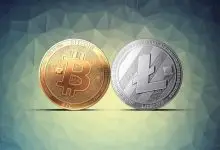 Since the public interest in cryptocurrencies has developed eventually over the past years, Bitcoin has been the main focus after the release of its first client in 2009. Bitcoin (BTC) has become dominant in the world of cryptocurrency. Later, many more cryptocurrencies came into existence. Amongst which, Litecoin (LTC) has gained more public interest than others. Developers of Litecoin have stated that the intention was to create the "Silver" to Bitcoin's "Gold." There are many similarities between Litecoin and Bitcoin since they are both cryptocurrencies at the primary level. Cryptographic integrity of network defines the legitimacy of cryptocurrencies. Therefore, Bitcoin and Litecoin also have several differences between them.
Market Capitalization
Bitcoin, by far, has been the most valued player in the crypto world. Until 2018, the market capitalization of Bitcoin was roughly expected to end at around $109 billion. Cryptocurrencies like Litecoin, Ethereum (ETH) are trying to catch up.
LITECOIN vs. BITCOIN

All the above differences seem to show a significant advantage with Litecoin. Users of either currency will experience no difficulty purchasing low priced goods or services, irrespective of how big the general price of undivided single Bitcoin or Litecoin may become. According to Richard Brown (IBM executive), some users might prefer to transact in whole units than infraction of units, which is a potential advantage for Litecoin. According to data of Blockchain.info, the average transaction of Bitcoin's network is around 10 minutes. Whereas, the equivalent figure for Litecoin is around 2.5 minutes. This could make Litecoin more attractive to merchants.
Cryptographic algorithms are the most fundamental technical difference between Bitcoin and Litecoin. Bitcoin employs SHA-256 algorithm, on the other hand, Scrypt is being used by the Litecoin. SHA-256 is a relatively more complex algorithm than Scrypt. The significance of these algorithms is their impact on "mining" new coins. Both Bitcoin and Litecoin involve the process of confirming transaction require substantial computing power. Miners (members of currency network), allocates their computing resources confirming the transactions of the users. In return, miners are rewarded with units of the currency which they have mined.
According to an announcement made at Coingate's Twitter, crypto-silver got hike gaining double digits in some hours. LTC/USD is changing hands at $25.81 with 8.21% positive movement in the last 24 hours. At the same day, Charlie Lee (founder of Litecoin) told about his aim of letting LTC (Litecoin) on as many exchange platforms to boost and support the order to increase its liquidity.
In early 2018, Charlie Lee predicted that LTC>BCH would take place this year while ETH>BTC will never happen because he believed BTC's cemented place as the leader of crypto-world. On Friday, BTC traded at $3150, BCH began to capitulate hard, downfalling and underperforming the market. On the other hand, LTC recovered a little. The performance led to forecast announced by Lee, Litecoin is positioned as 7th largest coin by market capitalization.