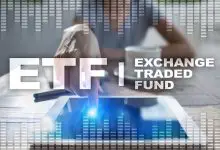 Invesco is planning to introduce an exchange-traded fund with a primary motive to attract interested companies to join and generate a higher amount of profits by deploying blockchain in their emerging business.
As per the recent announcement, it revealed that the Invesco's Elwood Global Blockchain ETF would begin trading operations on the London Stock Exchange from the beginning of this week. The ETF would invest their investment among various companies that include Apple, chip manufacturer Intel, graphics processing units manufacturer Advanced Micro Devices, mining hardware manufacturer Taiwan Semiconductor Manufacturing and United States exchange supporting Bitcoin futures CME Group.
Chris Mellor, the head of ETF equity product management in Europe at Invesco, stated that "the potential for blockchain to boost earnings was often not reflected in the share prices of companies such as Rio Tinto, the mining company that owns hydroelectric assets that could be harnessed for cryptocurrency mining."
In the beginning, the ETF would invest in 48 companies and the selection of such companies would depend on the proprietary scoring system designed by Elwood Asset Management, a well known specialist crypto investment boutique supported by Alan Howard who is the co-founder of the Brevan Howard hedge fund.
Bin Ren, Elwood chief executive, stated that "We are beginning to see the technology being used by financial services companies in particular, but we expect greater application of blockchain technology across a wide range of industries."
During the previous month, JPMorgan had declared plans that would utilize the features of digital "JPM Coins" to boost up the dollar payments for various corporate banking clients thereby motivating it to become the first global banks to integrate the information of blockchain technology into its major part of the business.
Recently, in the United States, there were seven blockchain ETF's being established, but all of them were able to attract only a few investors who showed interest in such ETF funds. The Amplify Transformational Data Sharing ETF has $110m in assets thereby making it one of the gigantic ETF in the United States.
In February last year, the US asset manager – First Trust had introduced the first European-listed blockchain ETF on the Italian stock exchange. Further, the Innovative Transaction & Process ETF has recently crossed $20m in assets.
In last year November, Amun, a London-based financial technology company, introduced the first exchange-traded product that would be able to monitor various cryptocurrencies prevailing in the global market and has recently raised a fund of $4.2 million.
Graham Tuckwell, the London based asset manager and a well-known entrepreneur who had developed the world's first gold exchange-traded product prior to the foundation of ETF Securities, has also shown his interest towards fundraising for the ETF.