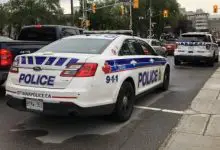 The Calgary Police Service (CPS) Cybercrime Team is looking for public help in the identification of four individuals who are involved in multiple fraudulent transactions.
As per an announcement made by the Toronto Police Service on March 13, the Canadian police are looking for information on individuals suspected to be involved in defrauding Bitcoin (BTC) ATMs (BTMs).
In last October, the CPS Cybercrime Team first got to know about such fraudulent acts going throughout the country in which one Canadian bitcoin company was at the top target list of the attackers.
The announcement revealed that around 112 fraudulent transactions had taken place in between Sunday, September 16, 2018, and Wednesday, September 26, 2018, that covered seven cities of Canada such as Calgary, Toronto, Montreal, Ottawa, Hamilton, Winnipeg, and Sherwood Park. Such activities were executed at the bitcoin kiosks also known as Bitcoin ATMs (BTMs)
The above fraudulent transactions had occurred across different cities in different proportions that included Calgary – 51%, Toronto-17%, Montreal-27%, Ottawa -1%, Hamilton 1%, Winnipeg – 13% and Sherwood Park – 2%.
Such activities forced the CPS Cybercrime Team to conduct a national investigation throughout the country with the assistance of various agencies that included the Toronto Police Service, Hamilton Police Service, Winnipeg Police Service and Halton Regional Police Service.
As per the post " – the suspects were committing "double-spend" attacks
– a suspect attended a bitcoin kiosk and successfully withdrew money before remotely canceling their transactions prior to the bitcoin company processing the withdrawal
– the total dollar loss to the bitcoin company as a result of these fraudulent transactions was $195,000
As per the investigation department, the entire fraudulent transaction was executed by a group of members operating across the country and working together.
To reach out to such criminals police department has issued the CCTV footage with the images of the four suspects involved and is looking for public help to identify the person involved in such activity.
It is being believed that all the suspects involved are men who have a keen interest and an in-depth knowledge in the world of cryptocurrency, bitcoin and/or blockchain technology.
As per the department,
"- #1 suspect is believed to be responsible for transactions that occurred in Toronto, Montreal, Ottawa and Hamilton
– #2 suspect is believed to be responsible for transactions that occurred in Calgary
– #3 suspect is believed to be responsible for transactions that occurred in Winnipeg
– #4 suspect is believed to be responsible for transactions that occurred in Sherwood Park "
Crypto analytics company CipherTrace had recently published a research report during January which revealed that about $1.7 billion in cryptocurrency had been obtained via fraudulent means in 2018. Out of the above stated $1.7 billion, around $950 million was stolen from crypto exchanges which signifies a 3.6 times increase in such transactions reported in 2017. In 2018 alone, a minimum of $725 million was lost to scams such as Ponzi schemes, exit schemes, and fraudulent initial coin offerings.