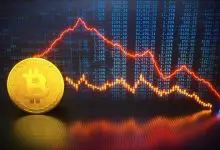 Peter McCormark, who had invested in Bitcoin, had to face a significant loss of around $1 million due to the receding market trend. Though he still confirms his faith in these assets, he informs others about the possible unpleasant situation in case the market continues its bear moves.
He now feels that he should have been more cautious and should have made an early exit before the Bitcoin fall. Writing to the Guardian, he stated that he had enjoyed his profits more when acquired through hard work.
McCormark commenced his investments in Bitcoin Way back in 2016, after the London Advertisement company he handled folded. He entered this arena with an amount of $6,400. With the rise in prices, he too raised his investments in these assets reaching to $300,000 worth, by the spring of 2017. It was then McCormark got trapped. Plenty of investments followed by people had created a bubble situation without watchfulness.
During December 2017, when Bitcoin prices were at its peak to almost $20,000 he had $1.2 billion under his name. Media reports regarding the upcoming digital assets increased the Bitcoin madness. The prices variations made regular headlines. McCormark dealt the situation as an amateur, who wished to make fast money and lacked money organizing talent. Assuming high gains, he spent a lot of money taking friends to exclusive places and buying gifts for family at exorbitant rates.
By the start of 2018, McCormark lost most of his investment in the falling Bitcoin market. But this does not deter his faith as he cites the example of Afghanistan women who get rewarded through Bitcoin for the work.
This heartbreaking story has spread the message strong and clear about the dangers surrounding the crypto world. It should be noted that other investments have also led to losses of considerable amount.
A report on CCN stated that software head John McAfee lost $100 million during the 2008 economic crisis. But it is also true that this loss was due to the Wall Street rise and ultimate fall and not because of experimental Bitcoin. At present McAfee has refused to pay taxes which are due for the past eight years and challenges the IRS.
Though bankers continuously term crypto as a bad investment, the third largest US bank, Wells Fargo, agreed to pay $575 million on account that they cheated upon its own customers for the past 15 years. This penalty came just a few days after the bank had termed Bitcoin as an insecure investment.