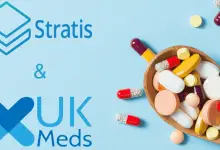 The fastest growing online pharmacy UK meds have recently announced its partnership with the Static, a company which famous for its work of making blockchain simple and easy. With this partnership now UK meds are now able to use the blockchain technology in their UK operations that will help UK meds to grow their business with the larger online pharmacies.
As per the sources at present this UK meds has been serving maximum 4,000  prescribed patients order every day. Now with the integration of blockchain technology, UK meds can provide the better patient safety in their online pharmacy sector. Not just this, by using blockchain technology in online pharmacy UK meds can now reduce the cases of patients ordering multiple prescriptions. In easy language by implementing blockchain technology in their systems, Uk meds can now log the patient's requests for a prescription on a shared and stable record book that can be accessed by the many different online pharmacies. This makes sure that the patients can only access the prescribed amount of meds.
UK meds will be soon able to track their shipments as they will be logged on the blockchain when the manufacturer initially produces them. UK meds can ensure the proper packing of the shipment and make sure that the shipment arrives in good condition.
Doctors who are providing online prescription by working with the online pharmacies can reference the patient easily with the help of a unique number that blockchain provides them.
According to Coin Journal, in this pilot, a major number of online pharmacies in the UK don't have any system implemented that records and alerts if the patient is making multiple prescriptions. Leaving its competition behind with the help of its new relationship with the Stratis's, UK meds can serve to the more significant number of patients and that too while maintaining an improved reference record.