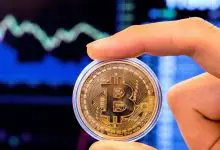 Bitcoin rates might fall below $3000 because of a mass sell-off. This is what futures trader Grisanti has forecasted regarding the current bearish market sentiment. He stated to CNBC that he was certain for the market to slide below $3,000 which would showcase its ultimate weakness. This could drive the market further down.
He stated "I'm looking for a move down to $3,000, which would represent a real weakness in this market. "It could be the driver that gets people to bail out of this and push it even lower."
A CNBC analyst, Grisanti, earlier traded energy futures at Bear Stearns. He is sure that the market would eventually fall over a period. According to his calculations, the current price fluctuation could be attributed to the selling of this digital asset as the investors headed on for their exits. He is of the opinion that a slight bullish run leads the investors to sell off their worth thus again pulling the market down.
He says "Every time this market does run, people are liquidating their positions. Whether or not they're liquidating outright or the futures, they are liquidating. So I'm looking to sell this. At $3,800 is where I want to sell it. There's some resistance around $4,000, $4,100."
The sell-off is either immediate or in future, but according to Grianti, it's in the process.
Bitcoin has also garnered negative reviews from CNBC commentator Scott Nations who has termed Bitcoin to be valueless who also stated that he would have gone short in Bitcoin if he could.
The member of the Chicago Mercantile Exchange previously, Nation, also criticized the crypto supporters that they had no idea as to what was happening.
On talking about crypto, He said: "There's no value there, I absolutely want to be short [on bitcoin]."
He further added that those investors who were around their 20's, are not aware of the dotcom or the housing bubble. He still wished that people did not lose their wealth on Bitcoin because if the bubble bursts, it would be very heart-breaking. Still, the good news was that the bottom price was still at a distance.
He stated "If you are in your 20s, you have never seen an asset bubble, You were a teenager during the housing bubble. You were not even a teenager during the dotcom bubble. Well, baby, this is a bubble! And right now, it's coming unglued. I hope that people don't lose too much money on bitcoin, but that they do learn the lesson: This is a bubble, and this is how it unwinds. Unfortunately, it's a bit painful, but we have not reached the bottom yet."
Both the CNBC commentators have concluded on the fading interest on Bitcoin is due to the adverse market trend.
In the first quarter of 2019, Nasdaq along with investment company VanEck, is anticipating to inaugurate Bitcoin futures. During the same time Nasdaq's competitor ICE, the parent company of New York stock exchange, is all set to start physically-settled Bitcoin future product.
The two CNBS analysts also stated that they are still unsure if the market is ready for Bitcoin future and they feel that investors who are having faith in this asset are merely fooling themselves.
Grisanti said, "I think the interest is out of the market, Yeah sure, like Trump supporters, there are a few that believe this thing is going higher, [even] as they have their losses every day." He was also hopeful that some other currency could progress and place itself in a leading position as things were just not moving in the right direction for Bitcoin. The Bitcoin price hovering around a low of $3,300 to $3,500 and a high of $4,000 to $4,100 was difficult to break in the words of Grisanti.