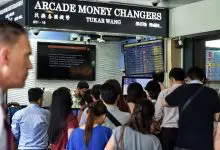 Implementation of blockchain in the banking sector has revolutionized it completely. Several traditional banking operations like money transfers and customer verification are now being conducted via the blockchain platform. US banking behemoth HSBC applied blockchain for its forex transactions in 2018, and the results were overwhelming. The bank was able to execute transactions worth over $250 billion using the innovative platform.
The advent of blockchain and cryptocurrencies across the globe has particularly helped money transfers leaps and bounds in terms of usability, cost efficiency and time consumption. Blockchain has successfully emerged as a medium for sending money abroad, without banks. While on the other hand, traditional modes of global payments, which include banks, have become more rigid and expensive.
Global remittances to emerging nations for 2017 were valued at $466 billion, with the average cost of transfers being at a pocket-burning 7.5%. To tackle exuberant costs, blockchain based payment systems have emerged, which don't require banks to transfer money to foreign countries.
Though this might sound beneficial for the users, it is a serious threat to the traditional banking system. The rising bank charges, the war on cash and the growing trend of de-risking by banks has made the traditional system redundant in serving over two billion people who need to transfer money but are not in the banking system.
Awareness of blockchain is growing rapidly across developing countries like India and easier access to the Internet has pushed the acceptance for platforms based on a distributed ledger system for money transfers. Some of the most popular platforms include Abra, Veem, BitPesa, Remitano, etc. The best part about these platforms is that they are hassle-free and less time consuming as compares to banks.
The sender needs to deposit cash on the blockchain, which converts it into Bitcoin or any other cryptocurrency. The digital token is then sent to the destination and is converted back to fiat currency to be remitted to the recipient. The remittance charges are quite low as compared to traditional options like Western Union, Moneygram or tradition bank-to-bank transfers. All of this happens in a matter of minutes, or sometimes even seconds.
Nonetheless, the growing reliability of the masses on these platforms is a matter of concern. There have been instances where crypto exchanges have became victims of severe cyber attacks, causing it to lose millions of dollars. Moreover, most of these platforms are not regulated. The unregulated crypto platform may lead to horrendously scams, like the one which Canada faced, the QuadrigaCX Exchange Scandal.
Apart from this, the technology can also be misused by evil elements for crimes such as tax evasion, money laundering, etc. However, banning these platforms is not at all a solution.
The blockchain is the revolutionary technology which can be extremely beneficial for users especially those who work in foreign countries and send money at home on a regular basis. The banking sector wants to still be relevant in the money transfer in space, it needs to adapt blockchain technology into its own operations. Charging high rates to customers and taking sweet time to deliver will not be helpful at all.
The advent of blockchain options other than traditional Bank transfers is cumbersome and expensive. However, the distributed ledger system has provided users with a more affordable, yet effective substitute. Adapting to change is what the evolution of business has been about. Traditional banks need to do the same or else they would be left behind in the international remittance game.
Apart from the banking industry, blockchain has been revolutionizing and penetrating other traditional business is like forex, pharma, publishing, virtual games, e-commerce, logistics and many more. All of these industries have welcomed blockchain with open arms, and so does the banks need to do.