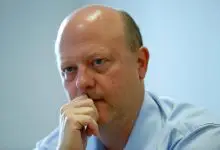 In special news coverage, CEO of Circle, Jeremy Allaire made a statement claiming that the biggest challenge in terms of regulatory measures which is confronting digital market today, is the lack of clarity as to how to establish the authenticity of the various digital currencies operating in the market. The US SEC or Securities and Exchange Commission needs to establish the identity which can define the currencies with their authentications.
Jeremy Allaire made this statement in an AMA meeting where he was present along with co-founder of Circle, Sean Neville, and other top officials from the firm. In an endeavour to create awareness among regulators like the Securities and Exchange Commission about the digital asset industry and the various challenges faced by the firm, Jeremy said in response to a question that the biggest constraint the firm faces from the regulators is that there has not been any support and guidance from the body of SEC as far as the classifications of various types of crypto assets is concerned. Since the market consists of a lot of currencies, securities, and commodities, there should be proper classifications among them. This would bring a lot of visibilities among investors leading to wide investments, growth, and development of markets for digital-based securities.
Allaire also claimed that the procedure of dealing with taxes should differ on a case to case basis keeping into consideration various crypto-to-crypto transactions. This came when he was asked a question on the mode of regulation of digital assets. France has been ahead of other countries when it is about the crypto market operation and regulatory bodies governing them with various statutory amendments. Recently, France was in the news, as one of the bills for P2P crypto taxation got a setback in the parliament. Issues like altcoins, XMR which are focused on privacy were also discussed along with Circle's approach while dealing with regulators while scrutinizing the trading details of opaque blockchains.
Robert Bench, who is the chief officer for compliance and leads the counsel for regulatory for Circle, stated that while no legal clause legislation has been drafted yet in the U.S. regarding private digital assets, Circle has already taken in to account such assets for the risk assessments of its customers. Due to the ongoing fraud activities in the world of cryptocurrency, transparency in regards to private trading and anti-money-laundering is an important element for regulators and the industry with a lot of innovation and technology would find solutions to make them transparent with their dealings.
Allaire also stated that Bitcoin has the potential to go up a great deal in comparison to its current value. He believes in future financial dealing and trading will be tokenized, and digital assets would represent a financial asset in the future.