Overview of Online Trading Platforms
A trading platform offers several opportunities to traders and investors to place deals and keep track of their accounts without the need for any financial intermediaries. Such trading systems are frequently packaged with additional services, which include charting tools, real-time quotations, news feeds, and even paid research. Platforms can also be tailored for individual markets, such as currencies, equities, futures, and options.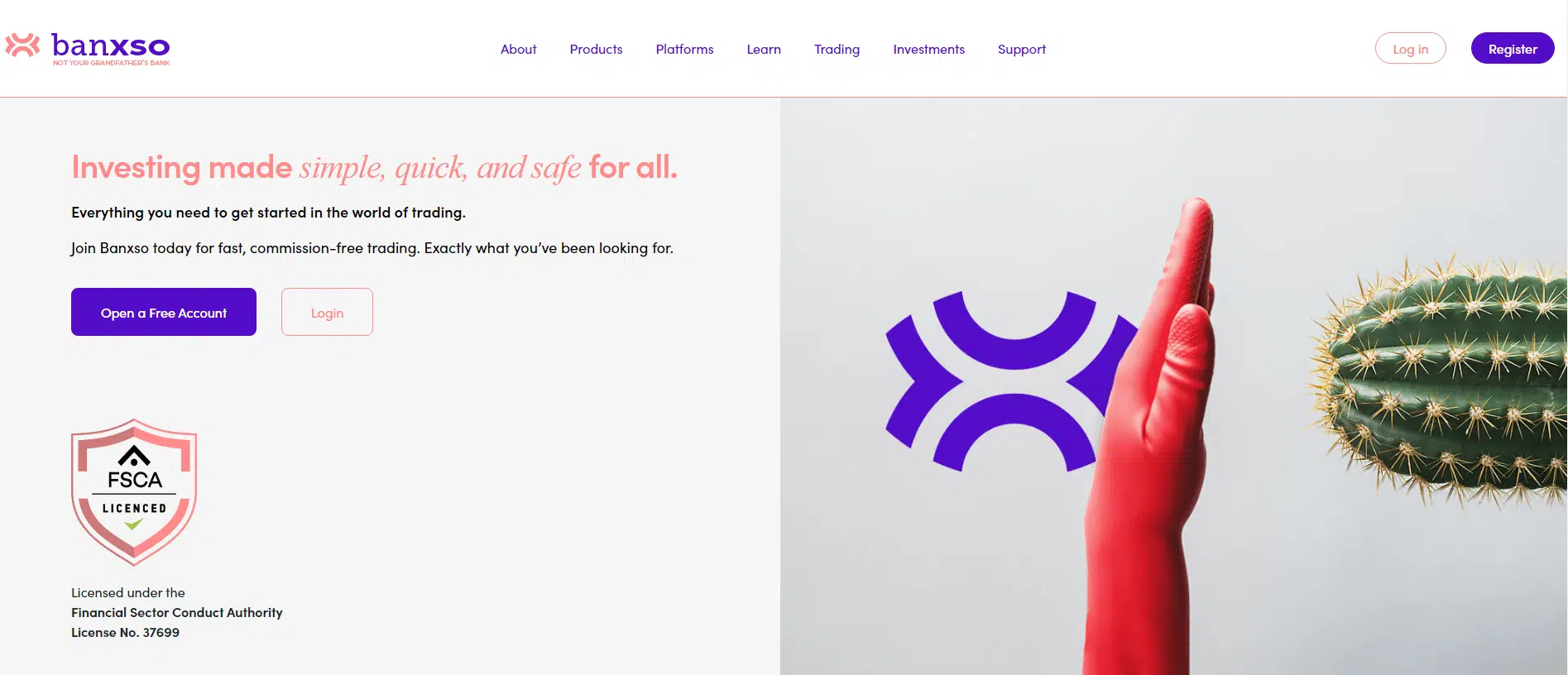 Prop trading platforms and commercial trading platforms are the two kinds of trading platforms. Commercial platforms, as their name implies, cater to retail investors and day traders. They are distinguished by ease of use and a variety of useful tools for investor research and education, such as charts and news feeds. Prop platforms are tailored platforms created by huge brokerages to meet their unique needs.
What is Banxso?
Whether one is seeking to trade DMA stocks or cryptocurrencies, Banxso is a platform that allows one to trade on any of the solutions. Banxso is a system based in South Africa and India that provides a flawless investing experience as well as help when needed. Users may pick from a variety of trading choices.
Investors, particularly novices, want to comprehend and learn how trading portfolios operate. Banxso is one portal that offers ample information and know-how and helps add additional trading portfolios to their accounts as it offers several trading alternatives.
Order types
Banxso provides a variety of complex order kinds and capabilities that may be accessible via the desktop and mobile platforms by anybody. The following are the types of orders that Banxso provides:
Market Orders: Banxso market orders tell traders to sell and purchase a financial instrument at the best feasible price. When dealing with the Banxso market order, no specific price is established. If liquidity is scarce, market orders are usually fulfilled at the lowest price available at the time the order is placed.
Limit Order: Limit order instructs users to sell and buy trading instruments at specific prices or better, but it does not ensure that the order will be fulfilled. A limit order allows traders to specify the exact amount for which they are ready to purchase and sell an item. Traders can either specify a specific expiration time or choose the default option, known as GTC. The term GTC refers to an order that stays open until it is completed as a successful deal.
Stop Order: Traders employ stop order at Banxso to join a market at a significantly less favorable price. As a risk management tool, stop orders are frequently employed as stop-loss orders.
Features of Banxso


Banxso pledges to supply every trader with insights and expertise, regardless of their degree of skill or experience in the trading markets, so that novice traders have a clear understanding of how the financial world functions. The following are some of the significant features of the platform:
Diverse financial products: Banxso provides a wide range of financial products, such as equities, forex, indices, cryptocurrency, and commodities, which was just recently introduced to their portfolio.
Knowledge through courses: Online courses with instructive articles are offered by the trading gurus of the platform. Additionally, personal coaching and various webinars are all available through Banxso's educational area.
Latest news: Banxso's clients get access to financial market news, technical analysis, and smart trading tools. These characteristics tend to help traders fine-tune their trading techniques and sharpen their trading skills.
Low fee structure: In comparison to the worldwide industry average, Banxso fees are set at a reasonable level.
More freedom: Due to its technological advancements, traders are offered more freedom to trade as per their wish, irrespective of their trading objectives or expertise.
Overview of Tradable Instruments of Banxso 
The Banxso platform has over eight thousand trading products spread across five asset classes. Banxso offers the following assets:
Stocks: Trading stocks is a fundamental and popular method of investing and trading. Knowledge of relevant techniques and marketplaces is extremely beneficial to traders. Banxso offers the most comprehensive platform for trading in stocks.
Indices: Investing in indices enables traders to concentrate their efforts on regional and global markets rather than individual equities. Banxso assists traders in constructing a balanced portfolio by allowing them to participate in a variety of indexes.

Forex: The forex trading product offered by Banxso has a low point of entry, giving freedom to traders to enter the market with the shortest amount of money and yet experience big profits.
Commodities: Trading commodities dates back to the times of the barter system. Banxso has opted to include commodities trading within the platform as they still hold the same popularity.
Cryptocurrencies: Trading cryptocurrency is a relatively new addition to the trading industry, but it is here to stay because of the numerous advantages it offers. Cryptocurrencies are diverse and have a wide range of practical applications, according to Banxso. But traders should be fully informed of where their hard-earned money is being invested. The site keeps its customers up to date on the latest news about cryptocurrency, as well as the features of the digital currencies that users may purchase through Banxso.
Trading CFDs on Banxso
CFDs are a flexible way for trading financial instruments and are available on a wide variety of assets. CFD or contract for difference is a contract to trade the difference in asset value from the moment it is opened to the moment it is closed. Contract for difference is derivative products that enable the user to speculate on market price fluctuations of assets, allowing them to profit from both rising and falling markets without having to hold the actual item. CFD's, in general, are a terrific way to increase one's trading flexibility as they are not restricted by minimum capital requirements. CFDs may be traded on several asset types at Banxso. Additionally, to guarantee that the trading requirements are satisfied, the team regularly upgrades its instruments.
Beginners may also use the platform's tutorial to learn how to trade on various assets and connected instruments. Banxso's assets are detailed on the company's website, with distinct features for each part. The provider recommends choosing favorable instruments in each asset after registration.
Trading Platforms of Banxso 
Banxso has become a favorite platform for several traders from all over the world due to its dependability and commitment to providing two trading platforms and meeting the traders' trading requirements and ambitions. It offers excellent trading platform variants, such as mobile trading and MetaTrader 5 platforms. Individuals familiar with digital trading will be aware that MetaTrader 5 is a premier multi-asset trading platform that has been created to facilitate efficient and flexible trading activity. MetaTrader 5 comes with a number of sophisticated features that can be used for both technical and fundamental analysis.
MetaTrader 5
MetaTrader 5 is a technologically superior multi-asset trading platform that enables easy trading. The platform's algorithmic component executes automatic trades with the help of special robots called EA, which is one of its strongest features. It executes trading activities and analyses quotations. MetaTrader 5 also allows users to automate trades and execute strategies. A bilingual interface on the platform improves the experience of trading by removing linguistic obstacles.
Mobile platform
Banxso provides customers with a mobile platform for trading via which they may monitor the market and associated news and begin the transactions. Users may keep an eye on the platform's real-time fluctuations and buy/sell.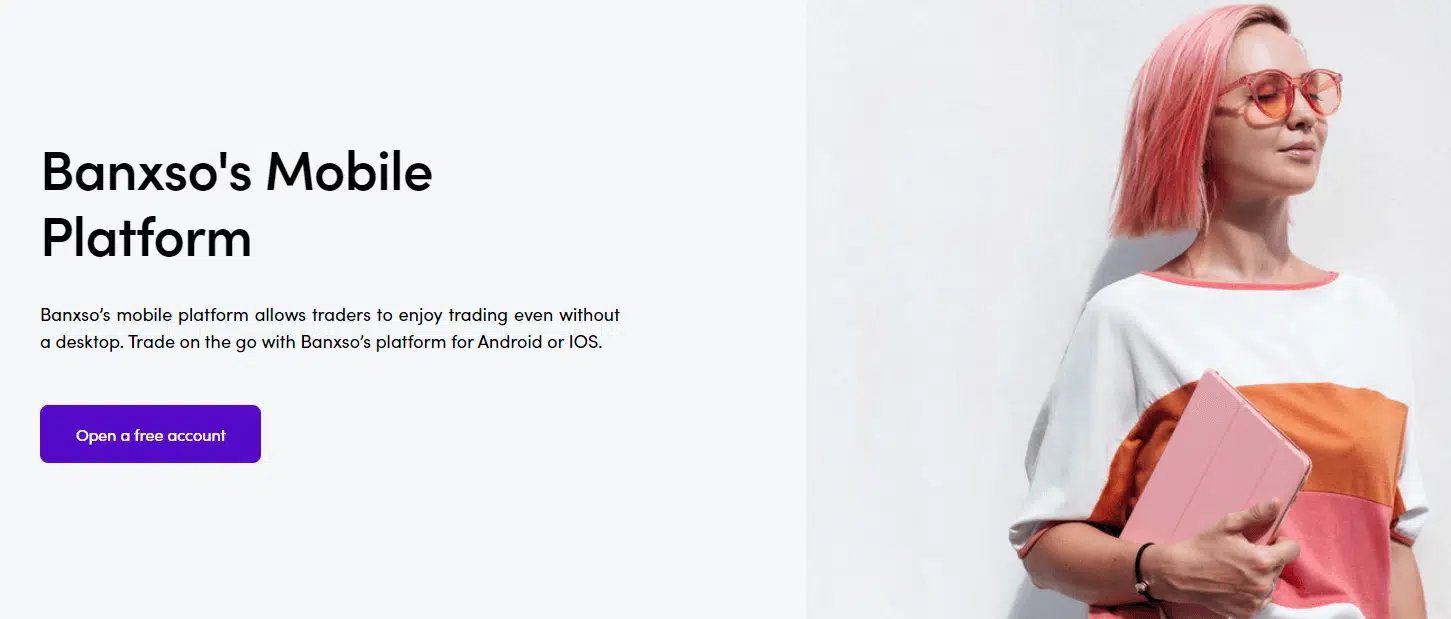 Overview of Trading on Banxso 
Banxso provides a level playing ground for all traders. It makes no distinction between a novice and an experienced trader. When Banxso starts to provide frequent updates and support to traders, the statistics and features become clearer, making it an ideal venue for a new trader as well as an experienced user looking to make large gains. The company's artificial intelligence-based intuitive trading technology has given them a worldwide reach. Presently, the numbers are confined to only 27 European Union nations, but it is likely to grow a lot more in the coming years.
Banxso also makes it easy for users to open an account. The demo account and the real account are the two kinds of trade accounts offered by Banxso.
Demo account: The demo account is available to allow potential traders to test the platform before investing real money. Banxso's platform includes a sample account to teach new users about trading methods and tactics, as well as how to trade in the real and exchange markets.
Real account: A live account allows Banxso users to trade their preferred assets. While anybody may open a demo account because it does not require any personal or financial information, individuals who want to trade any of Banxso's supported assets have to open a genuine account.
Educational Services & Investment Strategies by Banxso 
Banxso's major goal is to assist traders to succeed by providing a wide array of educational tools, such as webinars by industry professionals, online courses, trading ideas, and more. At Banxso, traders have complete access to these resources, allowing them to improve their trading and investing skills. The resources are intended to help users become better investors and navigate financial markets with comfort and confidence.
Coaching
Banxso's coaches are available to answer any queries users may have related to trading and provide practical advice on how to trade effectively. The professional coach not only examines the user's transactions but also asks their logic for specific trades. The personal coach has a one-on-one conversation with the trainees and revises trade strategies with them, assisting them in staying focused on their ambitions.
Banxso recognizes the importance of instructors and their impact on traders. Coaching aids traders in their professional development and learning. As a result, Banxso has recruited one of the best traders in the world to personally teach the platform's traders.
Trading Concepts
Experts at Banxso analyze financial systems and make predictions about their future moves. They conduct in-depth technical analysis of various assets and accurately anticipate their short- and long-term moves. The goal of Banxso's daily market updates is to draw focus on the economic, environmental, and political news that has an effect on stock markets. Those who keep up with Banxso's market updates can stay rest assured that they are on stable footing, even if the market unexpectedly shifts.
Is Banxso a Legit Platform? 
The validity of a platform provides traders with a sense of comfort. It is the first aspect that all traders look at before joining an online trading service.
Banxso has all the grounds it needs to proclaim itself a credible internet trading platform. The Cyprus Securities and Exchange Commission, or CySec, is in charge of overseeing it. Banxso is recognized in almost thirty European Union nations. The platform's validity extends to merchants who are nationals of the European Union. MiFID, which stands for Markets in Financial Instruments Directive, defines Banxso's legal framework.
Banxso Customer Support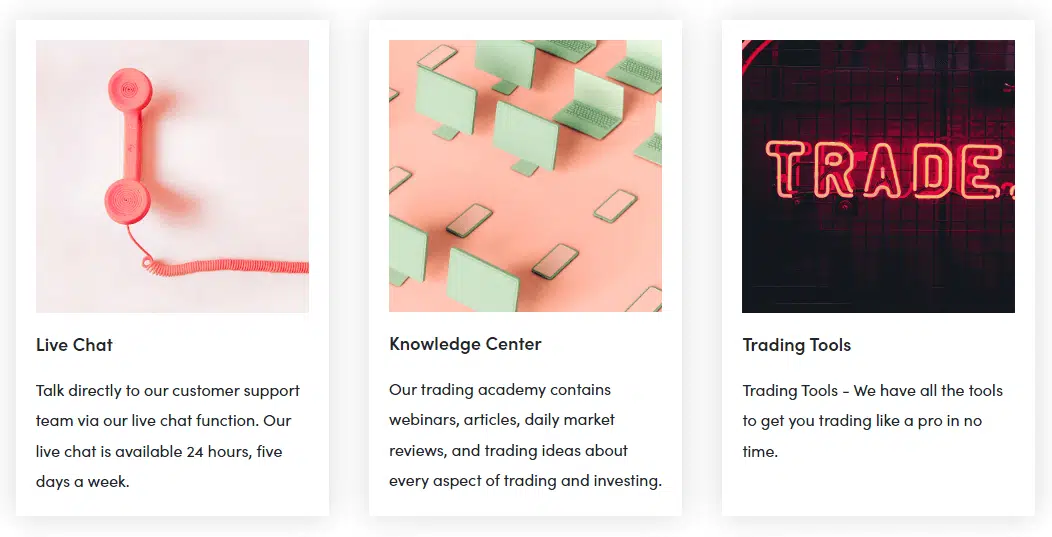 The population of brokers is increasing by the day. Hence, deciding on the right one may be challenging. Customer support is one of the aspects that determines the quality of a trading platform. When it comes to Banxso customer service, the team's reactivity and efficiency are noteworthy. The professionals reply to all consumer inquiries within a day. Customers may reach out to the support staff through a variety of means, including:
Email – Users can send an email to support@banxso.com to submit a request for Banxso assistance. The platform asks that mailers for their complete name and accurate contact information. In most cases, the staff responds within a day.
One-on-one meeting: Through personal human support, traders can meet Banxso representatives on a one-on-one basis.
Telephone help: Technical help is also accessible from Banxso customer care. Customers may reach them at their official number keeping their pertinent details handy.
Chat: Customers may talk to the support team promptly using the live chat option, which is accessible 24 hours a day, five days a week.
Conclusion 
Anyone may join Banxso as there is no minimum capital requirement. However, before one signs up, they must make sure to do robust research about the platform, its services, and the investment requirements.
It is recommended that all risks are thoroughly analyzed before investing one's hard-earned money to prevent future losses and gain a solid handle on the swings to maximize gains.
FAQs
Is Trading on the Banxso Platform Safe?
Yes, it's risk-free. The platform is governed by the South African Sector Conduct Authority (FSCA). It is also run by the same entity.
Is it a Good Platform for Newbies?
Beginners are strongly urged to enroll in Banxso's online education sessions before beginning to trade. Remote coaching assists a user in learning about the market and keeping up with developments. It will assist the user in learning how to trade.
Is There a Demo Account Available at Banxso?
There is a demo account available at Banxso. Before performing actual transactions, one must use a demo account to learn how to buy and sell within the market and also learn how to analyze trades.
Is There Any Kind of Risk Associated with Trading with Banxso?
Users must be aware that trading in each market has its own set of benefits and hazards. Trade in the real world has its own set of ups and downs. For example, the widespread incidence of COVID-19, which has an economic impact on the country, can cause the stock market to crash in a matter of minutes.
Is Banxso Compatible with Cryptocurrency Trading?
Yes, the platform is compatible with cryptocurrency trading. On the Banxso platform, users may buy and sell Bitcoin as well as other currencies and tokens. However, to deposit and withdraw cash on a crypto trading platform, one must have a registered crypto wallet.