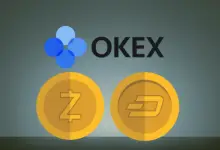 The Korean branch of cryptocurrency exchange OKEx, which had earlier announced delisting of privacy coins Zcash (ZEC), Dash (DASH), Monero (XMR), Horizen (ZEN) and Super Bitcoin (SBTC) has in an update said, that it had put suspension of Zcash and dash on hold as it wanted to conduct more research on the transparency of transactions of both cryptocurrencies. The other three, namely Monero, Horizen, and Super Bitcoin, will be delisted as announced earlier.
Five privacy coins were put up for delisting following pressure from the Financial Action Task Force (FATF). According to FATF's "travel rule," cryptocurrency exchanges are responsible for collecting and disseminating relevant information for monitoring transactions such as names of senders and recipients of digital currencies.
Digital currency is very transparent. All the transactions on the blockchain can be seen by anyone, along with the addresses of individuals giving and receiving cryptocurrencies. It is not very difficult to link addresses with individuals. This information can attract unwanted attention from hackers, robbers, etc. To tackle this problem, privacy coins were introduced. Privacy coins employ different tools to make it impossible to know the sender and the recipients or even the amount transacted. That is done by breaking up an amount in several smaller amounts, and the slices of individual transactions are again regrouped. Thus, making it impossible to know the actual amount transacted. Privacy coins also use one time addresses where a user will have a different address for each transaction. Thus, getting hold of a digital wallet address also becomes futile.
Compared to Monero, Horizen, and Super Bitcoin, Zcash and Dash can be called less private as they have two modes of operation. One is the transparent mode where the wallet address of the sender and recipient, as well as the transaction amount, will be visible to everyone on the blockchain, and the other will be a private one that will hide these details. Thus, privacy and anonymity are optional on Zcash and Dash and not on the other three.
Cryptocurrency Exchange OKEx will be hoping that delisting privacy coins, albeit not all, along with its recent donation $4.5 million to Perpetual Swap Market Insurance Fund, will boost user confidence and attract more users to it.