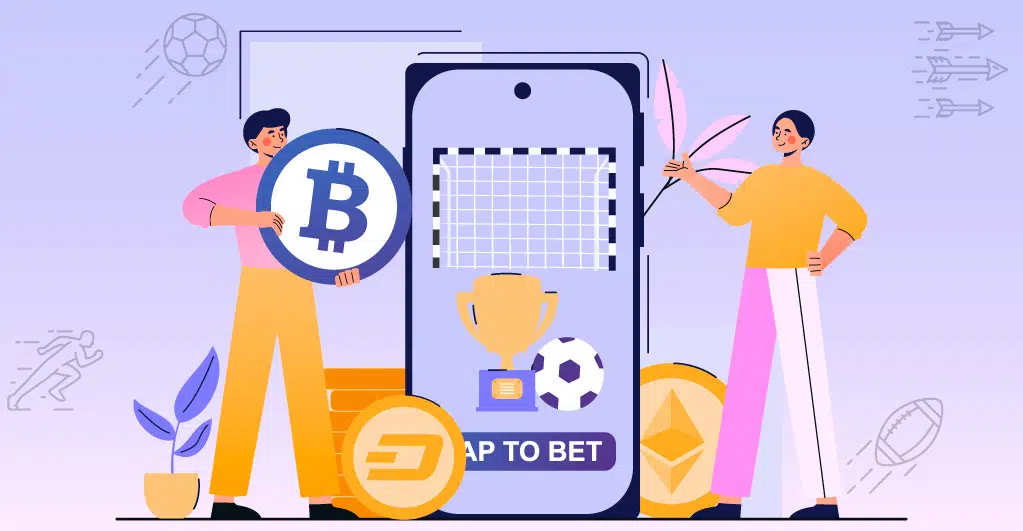 Introduction
Crypto sports betting refers to the activity of using cryptocurrency or decentralized assets to place wagers or bets on sports in real-time or in advance. While some platforms do accept fiat currencies but primarily, crypto serves as the most common means of transactions, betting, and cashing out of wins. Crypto sports betting can be done through various websites and online platforms that might be different based on the geographical locations of the users and the brands working in that particular market. The list of supported cryptocurrencies and the sports to bet on would vary from platform to platform and country to country, although some of the leading players that operate in multiple nations do offer some commonality as well as familiarity.
How does Crypto Sports Betting work?
The underlying principles for crypto sports betting are similar to sports betting, with certain steps that are common with online crypto gambling. At any of the selected sports betting crypto platforms or websites, the users can simply create an account or register, deposit crypto assets from their online crypto wallets to their account with the betting platform and start wagering on the options that are provided by the company. In the majority of the cases, the wins can only be cashed out in the same mode of currency that was used at the time of deposits, and this is done to avoid or prevent money laundering through these websites.
Why is it important to choose crypto for Sports Betting?
Often, it can be crucial to choose the ideal cryptocurrency for betting on sports as not all crypto assets are the same, and in some cases, the asset itself might greatly affect the user's experience or ability to play. Crypto assets have a volatile and going with a stable altcoin can prevent users the risk of losses in case the value plummets as it can also affect the value of one's wins. Some of the less popular altcoins might not be supported by a large variety of platforms which can hamper the choices one has at their disposal, which is why choosing a widely supported cryptocurrency is generally a good recommendation.
Why Crypto Sports Betting is popular nowadays?
The reason behind the success and continuous growth of crypto sports betting comes as a result of the architecture and benefits of decentralized assets itself. First and foremost is the privacy as well as anonymity that comes with the use of cryptocurrency. The speed of transactions too is far better with crypto transfers in comparison to fiat money orders or bank wires that could take up to a few business days while crypto transfers happen in real-time. Crypto sports betting sites usually also offer a plethora of bonuses and promotions to entice users, which can make for a more engaging and relatively beneficial. These bonuses include welcome bonuses, deposits, added value, or even free bets at select platforms.
Conclusion
Crypto sports betting is a sector of online gambling that covers various aspects of the domain though merely choosing the right or wrong currency can determine one's overall experience. Albeit not every currency can be accessed at this current state of legalization, making an informed decision can go a long way in the cryptic world of betting on sports online.