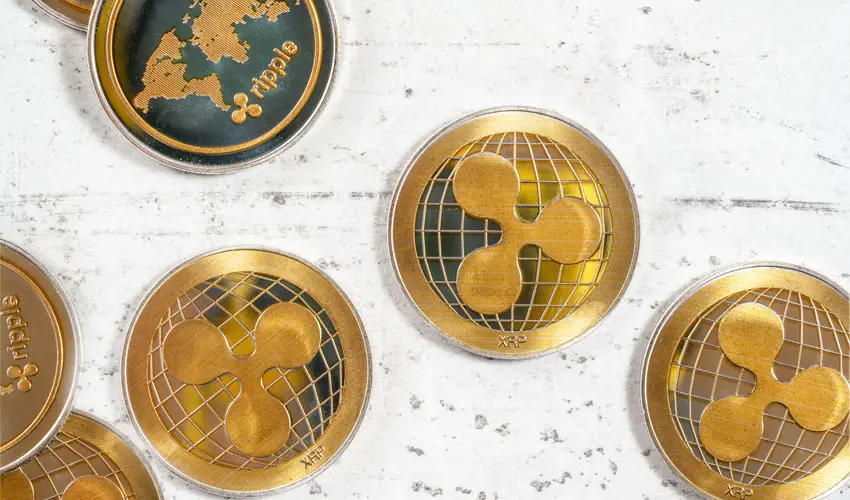 Ever since Ripple has been launched, it has managed to sell approximately 1 billion XRP every month. According to a Ripple related publication, namely XRPArcade, these sales are expected to continue for more than 20 years. According to a report, Ripple has 55 billion XRP tokens stored in an escrow account. The publication has asserted that it is near impossible to sell all these tokens in 55 months.
Ripple had witnessed a lackluster performance in the year 2019 and, to some extent, in 2020. The poor performance of Ripple has put some XRP community members on edge. Ripple price stayed comparatively stable in the ongoing month soon after recovery from the March lows. Ripple's XRP has managed to settle above $0,1850. Currently, ranked as the third-largest digital asset, it remained range-bound since the beginning of the week. The trading volume of Ripple has been registered at $8.2 billion, and the average trading volume remained stable at $1.8 billion. Ripple price has somehow managed to break the resistance at $0.19 soon after a brief consolidation tenure above $0.18 support.
Benefits of Ripple
Ripple has emerged as one of the fast-growing currencies and has over 39 billion Dollar tokens in circulation. Given below are some of the benefits of Ripple that has made it favorite over other currencies:
Widespread Usage
Ripple has already been adopted by over 100 companies all across the globe. The ease in acceptance by various financial organizations has enhanced the value and legitimacy of Ripple. According to XRP News, The large scale adoption was a significant part of the original development goal of Ripple that was to help organizations and banks all across the globe to transport money.
Stability
Ripple has witnessed consistent growth ever since it came into existence. It has also offered stunning value to investors. It is the stupendous stability of Ripple that has appealed organizations and banks to use the coin over others
Decentralized Remittance System
Ripple has been established based on open-source technology. The technology permits the distribution of capacity and customization to suit the requirements of various users. Ripple's set of validators is surging with every passing day, thus permitting access in various markets and platforms. Additionally, distribution also permits you to transfer value in fiat currencies, commodities, and digital currencies. This aspect has led to rapid adoption and extensive usage of Ripple.
Future of Ripple
Several leading websites have made some encouraging forecasts about the future of Ripple. Reports suggest that Ripple has a promising future. After initial hiccups, Ripple is expected to witness a smooth phase. New partnerships and the latest technologies are awaiting Ripple. These developments may lead to a spike in Ripple price by $ 8 to $10. Check out XRP Price Prediction for more details.
There have been many positive bullish forecasts for Ripple in 2020. The reports suggest that XRP may surge to as high as $20 this year as XRP offers robust potential among all the cryptos.
According to another website, it is believed that XRP may achieve new heights and may climb $22.79 with a robust circulating supply of 38,739,145,924 XRP.
There is yet another report that states that XRP may rise as much as 2000 percent. It will reportedly become possible only if Ripple emerges as the top choice for cross border payments by financial organizations.
Why could Ripple register robust growth in the years to come?  
Several encouraging factors have made everyone believe that Ripple will register robust growth in the coming years. The value of Ripple's XRP grew by a whopping 35,000 percent in the year 2017. Ripple's outstanding growth outperformed both BTC and Ethereum in 2017. Ripple strives to make sending and receiving money via banks all across the globe hassle-free and economical. These aspects may encourage the growth of Ripple in the coming years.
Is investing in Ripple a good idea?
When you invest money in Ripple, it implies you purchase XRP. It also signifies that in the years to come, banks and organizations will use XRP to move value and may purchase XRP to push its price. However, banks have the option of using IOUs that may keep the price of XRP still. So the question that remains to be answered is whether XRP will surge in value or not? The answer depends on the majority of banks and payment providers and whether they decide to use it or not. Amid its various benefits and powerful growth, investing in Ripple appears to be a good idea.
Conclusion
The future appears to be promising for Ripple as it continues to add more banks to its growing list and strives to enhance the ease of access to XRP for everyone. Ripple is also expected to save banks huge money in terms of fees. Transactions also take a few seconds that implies that a large number of transactions can take place in a few seconds.