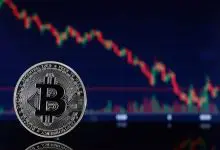 In the last 24 hours, the digital asset market witnessed a marginal fall in its worth from $224 billion to $219 billion since the Bitcoin price decreased to $3,500.
Earlier the traders had stated that a dive below $3,500 would be testing times for Bitcoin at support levels in the low $3,000 area.
The virtual asset market witnessed an unpredictable loss as the crypto assets namely Ethereum, Bitcoin Cash, EOS fell from their positions.
A crypto trader, DonAlt, stated that a short-term fall at the $3,400 mark could be an expected move by Bitcoin. According to him, $3,500 has seen a support level for three times till now, and if this occurs again, he believes that will hold no longer. He went further to say that a level of $3,400 would be ultimately reached, where he would resume trading, till then he would confine himself from trading and would sit fully hedged. He said "Perfectly responded to the drawn level. $3,500 has acted as support three times already if it is hit another time I'd expect it to break. Finally approaching a level ($3,400) that I might trade again. Until then still sitting tight fully hedged. "
If the Bitcoin price showcases a fall regularly to such disheartening levels of something below $3,000, the other key crypto assets could follow suit and show considerable downfall too.
Ethereum which has fallen below the market value of Ripple, and has dropped to the third position by market cap globally, has fallen by more than 6 percent against the US dollar.
A cryptocurrency technical investigator, Hasaka, stated that a 3 percent fall in the price of Bitcoin could eventually decrease its worth even more, but it is far-fetched that it could lead Bitcoin to test its one year low of $3,122.
He added "Yesterday's sell the rally analysis played out like a beauty. Bounced before the $3,430 support level. Took out lows (green dashed) of this consolidation. Neutral here, not shorting into HTF support. Covered my BTC short, holding ADA and BCH,"
All through in the past few weeks, researchers such as Willy Woo have forecasted that a bearish trend is here to stay for the first two quarters of the current year.
A cryptocurrency analyst, with an online firm under the name of "The Crypto Dog," remarked that though the digital asset market is about to touch its bottom levels in the near future, the market will definitely not witness fresh summits with considerable runs. He believed that Bitcoin has already touched low points but still an upward trend is unlikely to be seen and thus there is nothing much to look forward to. He stated "BTC has mostly bottomed (might even have put the final low in) but we're not going to see a significant rally or new highs for a while so that's not much to get excited about. Cheers to a boring 2019."
Researchers are of the opinion that the cryptocurrency market is on its way to a monotonous year in 2019 in relation to transactions undertaken as well as stability. The digital asset market has shown an increased level of volatility in the first month, however, most crypto assets including Bitcoin have hovered within marginal parameters and are finding it difficult to break the key resistant levels or even fall below the support levels.