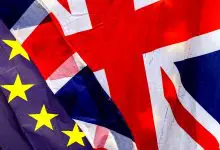 Brexit voted by the Brits who are headed to the polls in the month of June 2016. Brexit will change the course of European history and the UK for upcoming generations. It is frustrating that the technologists are taking the chance blockchain as a solution to a problem which is so far has proved tuff, costly and painful. The solution is to its core dilemma which is politically deciding between a 'hard Brexit' and 'soft Brexit'. They may actually in harnessing blockchain technology's great potential as an economic governance system.
Blockchain can help in bringing blockchain into the mainstream ethical values; it is very doubtful to make the UK's divorce from the EU.
There are many things blockchain could be good for, but Brexit is not one of them in polls. The blockchain is technically advanced while it may bring out changes. Brexit is incredibly difficult to deliver and need a solution which blockchain is unequipped to offer. The UK government is not exactly known for its technical expertise and let its understanding of blockchain.
The blockchain is a technology which everyone agrees is harder to understand. Blockchain opportunism is designed to show the UK government which is down with the emerging technologies.
Politicians need to aim at their energy for what can be succeeded in the short term. The same concerns applied for the blockchain. It needs to sort off itself before it has an actual chance of tackling any other issues in the real world.
Jessica Klein in Breaker Mag who rightly pointed out the dangers of just throwing tech at problems without considering the real ethical dilemmas underlying them:
Ignoring not just the historical context but the present-day logistics of this border (about 30,000 people across the Irish border daily) is not just frankly insensitive, but also indicative of a wider problem with the tech world prescribing digital solutions to physical, human, and historically rich problems. These "solutions" lack context in favor of efficiency, rendering them ethically impractical and, at times, dangerous.
Some serious discussions about using blockchain effectively in Brexit negotiation would lay the groundwork for more creative approaches to the UK trade relationship with the EU. They need to establish a framework for future free trade agreements all over the world which could increasingly rely on technology. It is done to enforce the rules and provisions. Blockchain could be used to solve the border issue which doesn't mean it actually will be. Brexit negotiators are mainly focused on devising some resolutions.