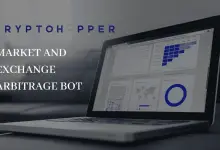 Who doesn't love arbitrage perks? Amidst the bust buying and selling of crypto coins and assets, arbitrage acts a glowing prize that everyone desires. As good as it sounds, it can be very easily daunting to reap arbitrage benefits, as it involves so much of constant market gauging, juggling with varied supply and demand issues, and comparisons. Thanks to God, Cryptohopper has created a brand-new kind of bot that especially focuses on this very apple of everyone's eye. It's called "Market and Exchange Arbitrage bot." For those new to Cryptohopper, a brief introduction about Cryptohopper will be that it is an automated crypto trading bot. Here you can trade on the cloud 24/7 for your favorite coins with the help of the bot.
In this article, we will brisk through the salient features of the Cryptohopper's arbitrage bot. So here we go!
Enjoy No Withdrawals Exchange Arbitrage
Yes, you heard it right! Crypto hopper allows the users to reap the full benefits of the price differences without any requirement of taking off the funds from their exchange. All you need to do is to connect the crypto exchanges of your choice where you have your funds, and then allow Cryptohopper's Exchange Arbitrage bot feature to do the work for you. It will very swiftly and promptly figure out all the beneficial arbitrage opportunities that you can reap.
Cryptohopper Has Excited the Market Arbitrage
With the latest renewal of the Market Arbitrage, you can enjoy a much faster market arbitrage experience. Now, all the price differences between pairs on the same exchange will come to you much more promptly and profitable.
All Can Play at Once! Cryptohopper's Market Arbitrage Bot Can Deal with Many Exchanges!
When it comes to Cryptohopper's market arbitrage, this thing is ensured that you are never left behind in the fast-moving crypto market. The market arbitrage bot allows you to connect all your desired crypto exchanges where you have your funds. The arbitrage bot takes care of the rest. You can also select as many pairs at various exchanges as you like. Cryptohopper takes pride in offering one of the most extended exchanges and market arbitrage bots in the entire crypto sphere today.
Can't Wait to Use Cryptohopper's Arbitrage Bot?
The route to Cryptohopper's arbitrage bot is very simple. The existing users need to log in to their accounts and make sure they get an Adventure or Hero subscription to be able to use these bots. Afterward, get going the arbitrage bot by setting the selection of desired crypto exchanges and crypto pairs. Don't forget that you need to own the coins that you want to do arbitrage with!
As for the new users, Cryptohopper offers a free account creation to give you an insight on how you can enjoy the various features of this bot, which includes purchasing professional strategies, paper trading, 24/7 trading experience, and so much more. Sign up with your basic details and see what the world of Cryptohopper has in it to offer you.
Are you skeptical about leaving your trading decisions in the hands of a bot? Well, there is nothing to worry about. Here is why.
The funds' related insecurities and doubts are natural, but here is why you can stay assured.
Emotions don't drive the bot, Analysis do
Cryptohopper's bot is very reliable. It uses market analysis as its reference data instead of human emotions. It renders the error scope to become extremely bleak.
Power to handle all coins with precision
Cryptohopper's bot comes with a capacity to handle as many available coins and to keep a close record of the precise rates. This detailed market following allows the bot to promptly sell the favorable coins as soon as they enter the profitable zone. Can you imagine a human following so many coins for their rates and selling points so accurately? That is why this bot is so special and beneficial.
No human being can trade for straight 24/7 with this kind of promptness, exactness, and speed. Cryptohopper's 24/7 live trading bot is, therefore, such an asset.
Social Trading
Yep, you heard it right! Cryptohopper's bot offers you an interesting social trading feature. It simply means that you can subscribe to the signals as well as strategies that the experienced market analysts share in the form of helpful market insights on social platforms such as Telegram. The bot by Cryptohopper can automatically respond to these signals and perform buying or selling decisions as per the requirement.
Create your strategy, choose arbitrage bots, market-making bots and mirror experienced traders. All available in the most complete trading platform, Cryptohopper.
Click here to start your 7 day free trial, the future of trading is waiting for you!