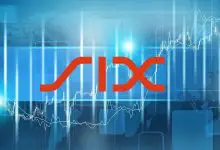 Crypto currency has popped up as more than accident in the brutal financial system of various countries. Different parts of the world are gradually coming to terms with this form of trading; the process of acceptance is slow however it is eventually making it to the primary financial bodies of different parts of the world. Its fate is hard to shine as far as the third world countries and its regulations are concerned, even as there remains a chance that following a better preview of their regulations in synchronization with the operations on crypto currency, there might be an opportunity for a better state of things even for crypto currency. The latest good news for the virtual currency is from the prestigious stock exchange of Switzerland, SIX.
It has been known lately that the Swiss exchange would soon commence a digital exchange. An announcement was made stating that this digital exchange would promote tokenization for the users, and it was stated that this exchange would be the best seen in the market in the long while.
It is important to note about this exchange that it would not promote the mainstream activities; it would not facilitate the trading of prominent digital currencies. However, it intends to enhance digitalization in the field of crypto currency, that is, it wants to integrate the tradition currencies into a more digitized framework. This, according to the recent announcement, continues to be the vision behind coming up with the digital exchange. But lately it has been stated that the platform is viable for the presence of crypto currency. According to a source, even though no definite answer has been provided such that the stance of the company can be deciphered, a person in an important position in the company has hinted that even if there is a chance that crypto currency trading is facilitated, a lot of attention would be paid to the quality of the currencies that will be allowed by the exchange. The currencies would be properly scrutinized and it would be ensured that there are no loopholes.
As of now, it can be predicted that if the crypto currency exchange is allowed in the platform, it would be one of the leading crypto currencies trading platforms in the world. However, nothing about it can be stated for sure before the official position is clarified.
Along with a dynamic trading platform, it can be believed that a lot of developments would be in the pipeline for the various ICOs if the mainstream virtual currency trading is taken up by the Six Digital Exchange. The commencement of this exchange would bring about many changes for the value of crypto currency in the world, it would define the fate of crypto currency Switzerland and influence it across the world.