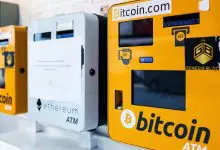 A new website which reflects the map of cryptocurrency teller machines and its other points of sale has been launched in Russia. Currently, it only provides information about Bitcoin ATM locations in Moscow, but the developers are planning to expand these services across the globe.
Cryptocoin Map and Its Useful Features
Cryptocoin map (cryptocoinmap.ru) is somewhat similar to Bitcoin ATM tracker website (Coinatmradar). Initially, it has quite a big scope of improvement. However, the platform had the unique features with it. Nanobit and Sova.rf, are the two Russian companies which developed cryptocoinmap and will continue to develop it.
Presently, Cryptocoinmap reflects locations in Moscow where crypto traders can deal with digital currency. The map shows six Bitcoin ATMs, where residents of Moscow and its visitors can purchase cryptocurrencies, and one is the exchange center which can buy and sell virtual coins. It also serves information about their addresses, phone numbers and working hours along with their images.
The points of sale accept major cryptocurrencies like Bitcoin Core (BTC), Bitcoin Cash (BCH), Ethereum (ETH), Litecoin (LTC), and Dash. Fiat currencies such as the Russian ruble, U.S. dollar, British pound, Japanese yen, Chinese yuan, and so on are displayed in exchange rates. Crypto exchange, Bitfinex is used for reference. It also allows users to add filters such as business hours, available services and supported cryptocurrencies and get suggestions accordingly. Yandex maps (Russian alternative to Google Maps) is integrated with the platform in order to offer some unique features which include real-time traffic updates and directions to Bitcoin ATMs.
This Cryptocoinmap enlists all supported coins along with their prices in fiat sources from local and global digital asset exchanges like Coinbase, Kraken, Bitstamp, Bittrex, Bitfinex, Poloniex, Cex, Livecoin, Exmo, and Yobit. It also shows the graph of their daily, monthly and yearly price movements.
Future Plans for Global Coverage
As per recent news, the developers behind the project are planning to increase the number of ATMs and also change bureaus which are operated in the framework of the law. To get listed in Cryptocoinmap, businesses must provide proof that they do not owe any taxes to the government and documents validating their financial stability.
Currently, the website only reflects seven locations in Russian Capital, but Sova.rf and Nanobit are planning to expand the coverage to add around 100 more regions across the globe. The companies involved in the project have promised to include over 200 locations by the end of March 2019.
Leading BATM tracker site, Coinatmradar serves the information of around 4000 cryptocurrency ATMs across the globe, which are operated by 520 companies located in across 74 countries.