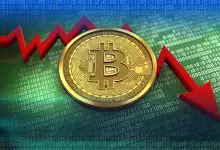 There is a lot of conundrum in the market as the cryptocurrencies hit a further low. Ethereum and Bitcoin go down further taking with them the overall value in the market of cryptocurrency. Even though all the major currencies have taken a dip, the worst kind is the one taken by Ethereum which has remained a favorite in the market for a long period of time, the price of Ethereum declined by a startling 20% in the past 24 hours. However, other currencies are not far behind in the loss that was faced in the market.
The price of Bitcoin has also fallen by a significant 7 percent with the final value having gone down to $6043. There have been several theories and speculations in the market but primarily, this has been linked to the activities undertaken by the users of Initial Coin Offerings, it is being believed that the users of ICOs have been liquidifying Ethereum for investment in the ICO. The fall of the Bitcoin has set a chain of actions in motion with the users liquidifying the Ethereum to invest more in the International Coin Offerings.
Bitcoin has fallen to a great extent yet it can be believed that it should not affect the traders adversely because it was expected to fall beneath $6000 and rest at the disappointing mark of $5800, however, if the market reacts in a haphazard manner, the value might even go below further. However, the disappointment in the market is palpable, the value has declined beyond the imagination of those who have not been in the field of cryptocurrency for a long period of time.
According to the experts, it would be better if the users did not invest much in case they fail to handle the volatility in the market, considering that the markets have been volatile and there is a chance that the value of Bitcoin would continue to decline further.