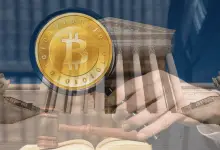 In a first, a person at a prestigious position has disclosed that he possesses cryptocurrency. The head of the Judiciary committee of the United States of America has revealed that he has cryptocurrency. A congressman Bob Goodlatte has stated that he has an amount of $17000 to $80000 in the form of digital currency; he came out and disclosed this in his yearly financial disclosure statement. This statement was disclosed by Goodlatte on the 10th of May when new rules were being made regarding the holding of digital currency.
These new rules stated that all the members in the House must disclose all the cryptocurrency they have if its value is above $1000 and also the transactions of over $1000 should be reported immediately. According to the disclosure statement, it can be believed that Goodlatte has invested in BTC, that is, Bitcoin, as well as also in important coins like Ethereum and Bitcoin Cash. He is one of the first authorities in the country to disclose his investment in cryptocurrency. Also, it has been found that the son of Goodlatte is an investor in Coinbase; however, not much has been clarified regarding that right now.
This is a brave step because in the economy of the United States of America, there are several legislators who have strong suspicions against cryptocurrency. For example, legislator Crocks went onto day that no good can come out of cryptocurrency and that it can only come of any use for the terrorists and those who want to indulge in money laundering. However, this is not the case with the majority of the law makers. There are those who want to tighten the laws of security in the sector of cryptocurrency and there are also that who are striving for the promotion of cryptocurrency in the country, for example, Jared Polis, has established the Congressional Blockchain Caucus, his purpose is to strive further in the field of cryptocurrency and bring about a further, more focused technological enhancement such that there is a better tomorrow for the free economy. There is also Senator Mark Warner who wants cryptocurrency who has forecasted that the value of cryptocurrency will be in trillions by the year 2020. He has compared cryptocurrency to mobile phones and ahs said that they can be just as revolutionary as the kind of revolution that was brought about by the mobile phones. He has emphasized on the transformational abilities of cryptocurrency in the modern times. He has also advised the government to not separate blockchain technology from cryptocurrency.
In spite of several extreme opinions towards cryptocurrency amongst legislators and law makers in the market, it can be believed that not everything looks bleak as far as the perspective towards this sector is concerned amongst legislators and law makers. Moreover, there is an enhanced sense if goodwill towards cryptocurrency and blockchain technology.