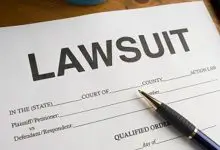 As per the reports from the online newspaper, The Times of Israel, Moshe Hogeg who is the Israeli entrepreneur running the blockchain firm Stox (STX), has contradicted with respect to the embezzlement of investors' funds in a response to the lawsuit filed against him. He stated that "investors have no ownership rights in the cryptocurrency company they invest in."
As reported earlier during the last month, Chinese investor Zhewen Hu had accused Stox and its founder for $4.6 million and claimed that he had invested approximately $3.8 million worth of Ethereum (ETH) in an open source, Ethereum-based prediction market platform.
As per the lawsuit filed by Hu, he had predicted that the successful growth of the Stox's market platform would enable an upward jump in the native STX token. However, on the other hand, the petitioner believes that only $5 million of the total generated around $34 million was used to fund Stox.
Also, Hu claimed that Hogeg utilized the rest of the amount to invest in another initial coin offerings (ICO) that includes messaging app Telegram's ICO, which was launched during the April of last year.
Hogeg is popular for his participation in various crypto-related set up that includes forming of the blockchain smartphone developer, Sirin Labs. He also served as the chairman of LeadCoin, a blockchain-based decentralized lead-sharing network.
Replying to the lawsuit, Hogeg's lawyers stated that the Stox white paper is of "a descriptive nature only and not binding." Further, the document did not mention anything about any kind of mandatory program and hence does not give any legal responsibility on its issuer.
According to The Times of Israel, Hogeg has rejected the claims made against him for any misconduct and claimed the lawsuit as an "extortion attempt." He further contended that the STX token does not represent a share and hence does not reward any ownership rights in the company.
Moreover, Hogeg also believes that as STX Technologies Limited is a Gibraltar-based entity, Israel was not the appropriate jurisdiction to deal with the relevant case.
The Times of Israel also revealed that Hogeg has spent the several million dollars on various projects in the last couple of months such as he purchased Beitar Jerusalem, one of Israel's top soccer clubs, for $7.2 million at the end of last August. He also gave around $1.9 million as a donation to Tel Aviv University to establish the "Hogeg Institute for Blockchain Applications."
Floyd Mayweather Jr., professional boxer, was the brand ambassador of the Stox ICO. In a distinct case, the boxer had faced charges for unlawful promotional activities around crypto startup Centra Tech's ICO in September 2017 from the United States Securities and Exchange Commission.